Shop Robert Lee Morris by Category
Robert Lee Morris
Notify me about

new styles

6pm.com respects your privacy. We don't rent or sell your personal information to anyone.
About Robert Lee Morris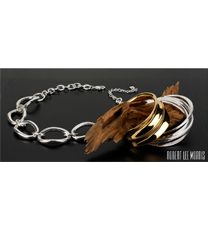 From one of the greatest visionaries of our times, Robert Lee Morris has a history of innovating and designed products that appeal to the masses while retaining its artistic roots. He has created pieces that are more than just accessories, they're wearable expressions that convey and invoke intrinsic feelings of creativity. Robert Lee Morris has proven himself since the 70's, when he first made his presence known as a master of sensual jewelry. Since then, he has pushed the limits of what's possible in terms of expression oneself with wearable art. Using organic metals and a mixture of semiprecious stones, glass, and leathers has allowed him to sculpt creative, yet easy to wear, silhouettes. With the inclusion of genuine gold and silver, rest assured that the along with the high caliber of artistic form, durable and long-lived product will help establish the spirit of American jewelry.